If you've ever heard of TGPs then you've seen free porn galleries like these. I wish I didn't have to give away so many of my favorite pictures and video clips for free, but it's hard to get any attention without promoting myself this way, so here are some examples of my promo galleries (and yes, the sales text is amped up to the nth degree; I kind of enjoy referring to myself in the third person):
Here I am in jeans and a tight t-shirt by the water, flashing my tits and panties outside: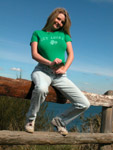 These pictures are from one of my favorite galleries, dressed in black with a wicked little black feathered hat, satin panties and nude nylon stockings: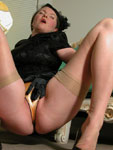 This is a fun one we shot outside with me stroking my big strap-on cock: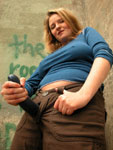 Here I am in a modest dress, white underwear and pantyhose all ready for church: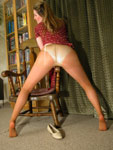 If you want to see ALL of my pictures, BECOME A MEMBER! I don't update the free pictures often; all the new stuff and regular updates are reserved for my paying members, though I do sometimes post previews here in my blog.
New photos in my members-only area are offered in galleries of two sizes: 1600 pixels on the long side or 1100 pixels on the long side. You can download and save your favorites and also utilize a hands-free slideshow mode within my site, if you like (this can be turned off or on according to your preferences).
Enjoy!
TastyTrixie.com is WAY MORE than just my blog with daily nudie pics; I have a whole special area for members to enjoy my homemade porn!
I started blogging in 2001 and building my exclusive site myself soon after, so there is OVER ELEVEN YEARS of content, some of it free here, and the real meat and potatoes of it made for members. Intimate and independently-owned and -operated by me and my wife, Delia!
*****

From my members-only area, an idea of some of our updates: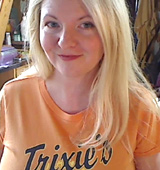 VLOG - Catch up with me and see if I'm "Lucky for LIFE"!




HOT AMATUER BJ & INTERNAL CUMSHOT VIDEOS! Super intimate camera phone sex videos
and diary entry with my boyfriend's spunk pouring out of me.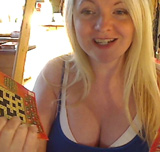 A vlog with my big boobs pulled out )and a shockingly complicated scratch ticket).





HD phone video welcoming Spring! A sweet little self-shot video of me celebrating the change in seasons.





78 sweet pics of me naked with my bare wrinkled soles and expressive toes sticking out from under the sheets.

HUGE gallery of 480 photos of DaddyW & I flogging, caning, plugging and being punishingly playful to gorgeous Delia in a rope dress DaddyW knotted her into.

VLOG - April 5th: do we have a winner?!?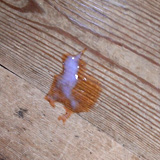 My SECRET blog posts!
Feet & Cock & Cum (+ 2 pics)

TINman Update

Design/Ad Work (screencap - NOT sexy)

TOO Wet

Soft, Warm & Springy

Slippery Grey Time (pics)

Timing: Can't Be Too Soon

Housecall (.mp3)

Three People I Will Not Be Fucking

We Are Cheerleaders

Trudging Along (NOT sexy)

Gratitude (+1 pic)

Buds in Winter (pics)

Masturbating & Music sounds (.mp3)

Coffee (pic)

Das Trix (w/pop culture images)

Did/Done (not sexy)


Outdoor Voyeur Video HD video: 21+ minutes of Delia & I undressing in the windy great outdoors for sensual candle & moon-lit bath time while a naughty spy watches us kiss, suck & fuck from the bushes.
1280x720p HD
in .mp4 & .wmv formats


90 pics of me & my valentine together in 100% nylon stockings: hauntingly romantic!


Hardcore HD video with Delia: 18+ minutes of corseted sensual sex play in 100% nylon stockings. I get on my knees to lick Delia's pussy-ass and she-cock sticking out from between her thighs. I straddle her & she pulls my thong panties over to the side of my juicy ass to fuck me, then winds up shooting her goo onto my face (ow! my eye!) and tongue.
1280x720p HD
in .mp4 & .wmv formats

137 photos of me in black lace-top stockings, a gorgeous royal blue bra handed-down from a friend, red garter belt with black lace accents, shiny royal blue panties, and a deep midnight polish on my toenails.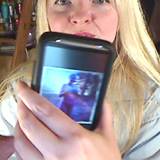 VLOG - January 13th: talking about my new equipment!

73 intimate self-shot images of me candidly looking at and adoring my curvy body in the mirror . . . especially my round belly. You will not see these kinds of photos on mainstream porn sites!

59 tantalizing busty blonde pics teasing some and pleasing fountain pen and long fingernail fetishists!

Hardcore HD video with Delia: 25+ minutes of me conjuring up my dreamgirl and FUCKING HER SILLY in her mouth and tight ass while we both wear pink 100% nylon stockings. I talk REALLY DIRTY to my "slut", Delia in this one!
1280x720p HD
in .mp4 & .wmv formats


Wearing my THICK GLASSES in 115 outdoor photos also featuring over-the-knee socks and a VERY short skirt with red stretch-lace panties underneath.

157 pics of me getting naked in the snow! See how hard my nipples get and how bumpy my giant areolas are in the freezing cold air. My sheer grey panties with the little pink bow aren't going to keep me warm . . . would you like to imagine snuggling?


Warm & womanly in 150 photos featuring a silk slip and 100% nylon stockings plus an incredible pair of shiny, sheeny, lace-edged panties in a saturated coral color that dips into my slit. Did you know I can lick my own nipples?


86 images of my bare feet, wearing "Totally Tangerine" nail polish on my toes, showing off my wrinkly soles, plus my legs, butt and more!
*****
Members to my site get all of my and Delia's photo sets, voyeur cams, videos (now in HD!) AND help us make more sweet porn (plus lots of other fun stuff).
Welcome to my blog and
homemade porn site
! I've been a proud WebWhore since the year 2000; I plan to make porn for the rest of my life! I hope you enjoy exploring my personal site whether it's getting to know me through my words or seeing me naked in my pictures, videos and webcams!
-Trixie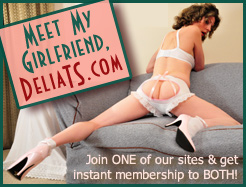 Fave Blog Links & Friends
Busty Babes Live on Cam Now:
TransWomen on TrixieCams: